Assalamualaikum
Hai korang☺☺ Pepagi nak save the date kan..Ko dah kenapa..alah….tu hah…Online Shopping No.1 di Malaysia tu hah..Hah..meh la nak cerita sikit.
Lazada Online Revolution akan mengadakan jualan yang tak masuk akal.Harga diskaun sehingga 80% tau..Uih..menarik tau.So sebab tulah aku suruh korang Save The Date!!!
Korang plan lah dulu kan apa barang yang korang nak beli..Lepas tu survey harga dan juga korang ratting seller…Rating seller ni wajib tau korang check sebab bila rating seller tinggi,jadi takdelah kes kena tipu kan.Tengok jugak komen-komen yang diberikan oleh customer kat situ.Korang boleh baca entry tentang Tips pembelian barang online .
Oh ya,sementara korang menantikan tarikh 11.11.2017 tu,iaitu dimana Online Revolution akan bermula korang bolehlah survey dan barang yang korang nak beli korang boleh masuk ke Wishlist.Tiba masa tarikh tu,korang boleh lah add to cart and terus check out..Hah..senang kan.
Antara barangan yang termasuk di dalam Lazada Online Revolution
Oh ya..Hari tu masa Pay day aku dah beli barangan untuk anak aku.Memang aku mencari tarikh-tarikh di mana Lazada buat sales.Jimat berganda tau bila Lazada sedang Sales ni.Yelah..Kalau kat luar harganya lebih dari yang aku budget.Tapi bila di Lazada,harga tu masih dalam budget lagi.So,cepat-cepat beli sebelum kehabisan stock.

LAZADA ONLINE REVOLUTION
So,jangan lepaskan peluang ni.Dah boleh add kat wishlist tau.Pelbagai barangan yang dijual tau.Barangan baby,Groceries,peralatan rumah dan banyak lagi,.
Dan korang berpeluang untuk memenangi Voucher dengan Spin The Wheel untuk mendapatkan VOucher yang menarik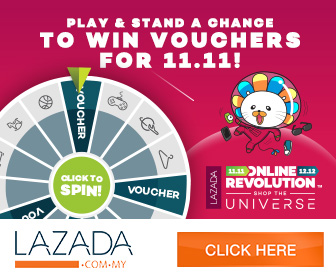 Spin The Wheel
→Thanks for Reading kisahsidairy.com←
Contact me at :sitirohaida81@gmail.com