Assalamualaikum
Hai korang☺☺ Menjadi kepantangan tau kalau cerita ada sales barangan baby ni.Haishhh..tak cakap korang..aku je ni hah..Bila dah nampak ada MEGA SALES barangan baby ni,kalau tak beli banyak sikit pun jadilah.

Sikit tu maknanya benda yang penting je aku beli.Yang aku tak boleh dapat harga dari biasa.Kebiasannya aku tengok pampers atau botol susu je.Yang lain-lain tu aku jarang beli.Tapi ada jugaklah beli kan.
Ni hah..Baru je ni..Baruuuu je. Hari ni dah start Lazada mengadakan Kempen Big Baby Fair.Haiishhh.,.macam tau-tau je kan umi naura gaji.Yang bestnya ,diskaun sebanyak 80%..Hoii..juling mata mak tau.Itu nasib baik duit sipi-sipi je..
Tu baru sikit nampak iklan Lazada ni hah..Belum lagi dok selak-selak lagi harga dan barang yang best-best.
Lazada Big Baby Fair bukan sahaja buat promosi tau,malah ada peraduan yang patut ibu-ibu join untuk dapatkan Disney Baby bedroom sets berharga RM2000 setiap satu..Huiii…best ni kalau menang kan..
Disney Baby Campaign bermula dari 20-30 July 2017.Nak join senang je..Just klik Bawah ni ye
Contest
Oh ya..syarat-syarat nak join contest ni
Disney Baby Campaign Terms & Condition
– This contest starts on 20 July 2017 and ends on 30 July 2017 at 11:59 PM (contest period).
– TWENTY FIVE (25) Winners will be announced within 15 business days after the end of contest period
– Prizes consist of the following:
a. 3 x Grand Prize of Disney Baby Sets worth RM2,000 each
b. 22 x Consolation Prizes of Disney Baby Products worth RM200 each
– Among all entries, Lazada will, in its sole discretion, select the Prize winner(s) at based on total amount of spent on Lazada.
– In order to win, participants must follow the mechanics above during the contest period.
– If the selected winner(s) (or any substitute winner) is ineligible, cannot be reached upon receiving the Notification, that winner (or substitute winner) will forfeit the Prize and it will be awarded to a substitute winner. If, having attempted to contact a winner and a substitute winner, Lazada is unable to award a Prize, Lazada reserves the right to consider the Prize unclaimed.
– Lazada reserves the right to change the T&C or cancel any promotions at any time and without notice.
– In the event of any dispute regarding the Rules, conduct, results and all other matters relating to a Competition, the decision of Lazada Malaysia shall be final and no correspondence or discussion shall be entered into
– The above terms and conditions are supplemental, and apply in addition, to the Lazada Malaysia standard terms and conditions, which can be viewed here http://www.lazada.com.my/terms-of-use/
Ikut je arahan seperti yang di dalamnya ok.Senang je..Mana tau rezeki anak-anak kan..dapat set ni..huihh..mau umi dia pun ikut sekaki jugak.
So apa lagi korang..jom shopping…hehehehe klik link ni
Lazada Big Baby Fair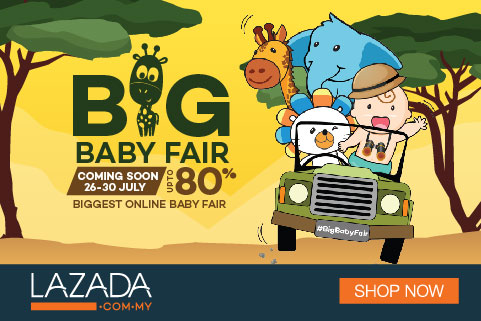 →Thanks for Reading kisahsidairy.com←
Contact me at :sitirohaida81@gmail.com