Assalamualaikum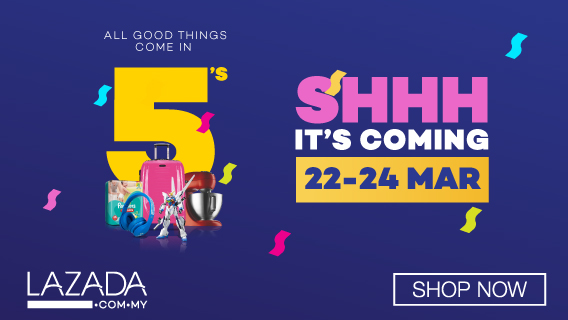 Yesss..Mungkin ramai yang dah tahu,atau ada yang belum tahu,LAZADA akan menyambut ulang tahun mereka yang ke 5 pada bulan ini.
Dengan ulang tahun yang ke 5 ini,LAZADA akan mengadakan Jualan besar-besaran dengan diskaun yang sangat-sangat hebat..
Rugi kalau korang tak ambil peluang ni,Bukan selalu Lazada mengadakan Jualan besar-besaran seperti ini..Lazada 5Th Birthday Surprise Sales akan berlangsung pada 22-24 mac 2017.So pandai-pandai korang lah nak save the date supaya tak terlepas ye.
Dan paling rugi kalau korang tak join sales untuk bulan ni kerana bulan ini penuh dengan kejutan dari lazada tau..Yes…Suprise Holiday Giveaway. Berbelanja sekarang sehingga 24 march dan berpeluang memenangi ticket flight to Secret Destinations..WOW..Syokkan
Beli mana-mana barangan untuk mendapatkan Suprise dari Lazada..Sikit hari je lagi ni..Jomlah sama-sama Countdown.
Ok..Cara macam mana nak dapatkan Surprise dari Lazada adalah
Hah..Senang je kan..Hari ni korang dah boleh buat banyak wishlist ok..heheh
Jom terjah Lazada sekarang untuk add wishlist korang >>> LAZADA <<<<<